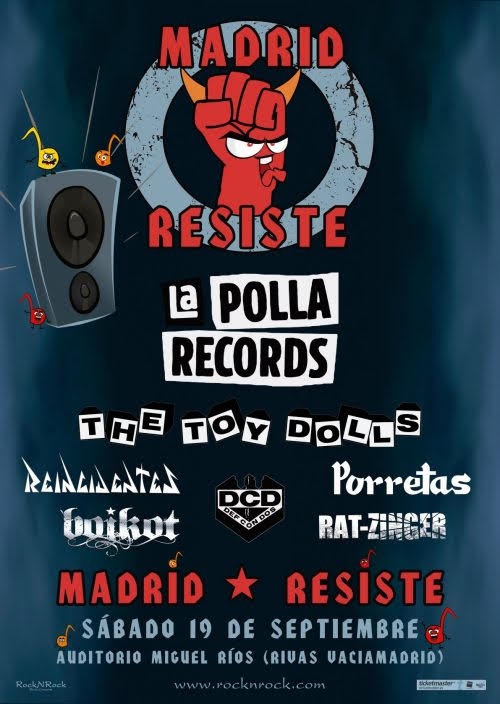 La mítica banda británica de punk rock THE TOY DOLLS se une al cartel de Madrid Resiste. El sábado 19 de septiembre actuarán en el Auditorio Miguel Ríos de Rivas Vaciamadrid.
Los británicos THE TOY DOLLS una de las bandas de punk rock más notorias y consolidadas del panorama internacional celebrarán su 40º aniversario dentro de Madrid Resiste. Son una de las bandas más divertidas y tienen uno de los directos más potentes que se recuerdan del género. El tridente formado por Michael "Olga" Algar (voz y guitarra), John "K'Cee" Casey (bajo y coros) y Martin "Marty" Yule (batería y coros) se entregan desde el primer acorde al último. EPISODE XIII es su último trabajo de estudio y una excusa perfecta para que esta inmensa banda ejecute su potente directo en Madrid Resiste.
LA POLLA RECORDS, THE TOY DOLLS, REINCIDENTES, PORRETAS, DEF CON DOS, BOIKOT Y RAT-ZINGER forman el cartel de Madrid Resiste, la mejor fiesta de punk rock para acabar el verano.
VENTA DE ENTRADAS
Entradas ya a la venta a través de la red de Ticketmaster.