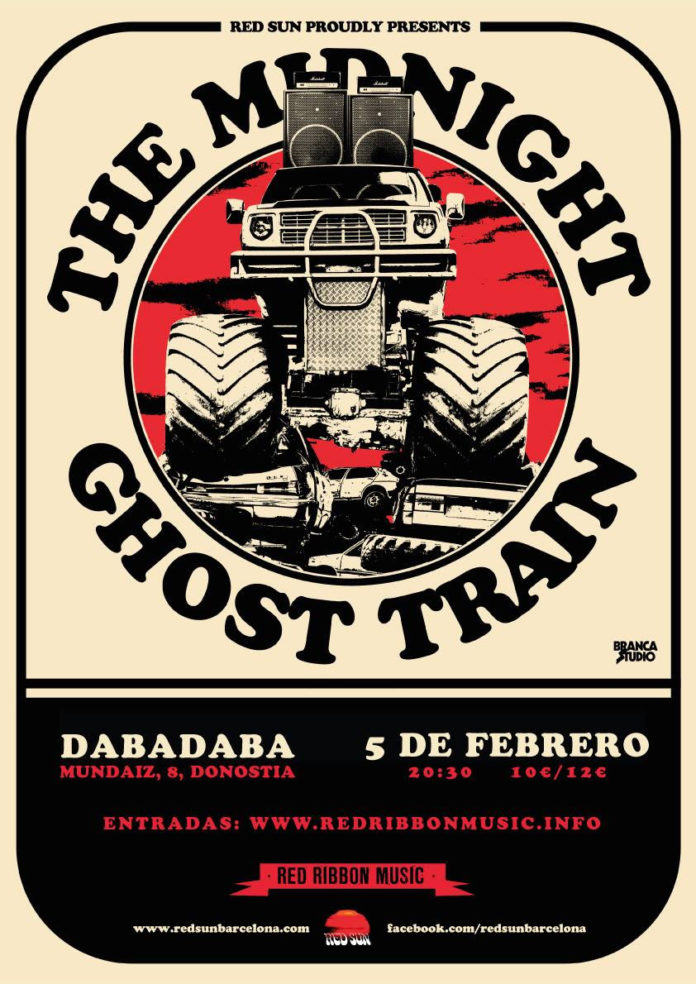 The Midnight Ghost Train (USA, Southern Rock / Blues / Stoner)
Lunes 5 Febrero 20:30
Dabadaba
C/ Mundaiz, 8, Donostia
Entradas: 10€/12€
Dabadaba
www.redribbonmusic.info/entradas
El 1 de agosto de 2007, John Goff falleció en su casa de Abilene (Kansas), víctima de un ataque de asma. Muchos os preguntaréis quien era John Goff….pues era el mejor amigo de Steve Moss, vocalista de THE MIDNIGHT GHOST TRAIN, quien decidió volver a su ciudad natal y reclutar a Brandon Burghart (batería) y Mike Boyne (bajo). Ellos tres serían el justo y merecido homenaje a su gran amigo.
Bajo las etiquetas de hard rock, stoner rock y heavy blues, esta banda es conocida por sus directos intensamente enérgicos. Se formaron en 2008, y desde entonces no han dejado de rodar tanto por U.S. como Europa.
Su primer EP Johnny Boy se grabó durante su primer año como banda, y a posteriori han publicado tres LP: The Midnight Ghost Train (2010), Buffalo (2012) y Live at Roadburn, éste último grabado durante su actuación en el Roadburn Festival (Tilburg, Holanda).
Las influencia de bandas como Clutch, Kyuss, Delta Blues o los grandísimos Black Sabbath son latentes tanto en sus álbumes de estudio, como en su directo.