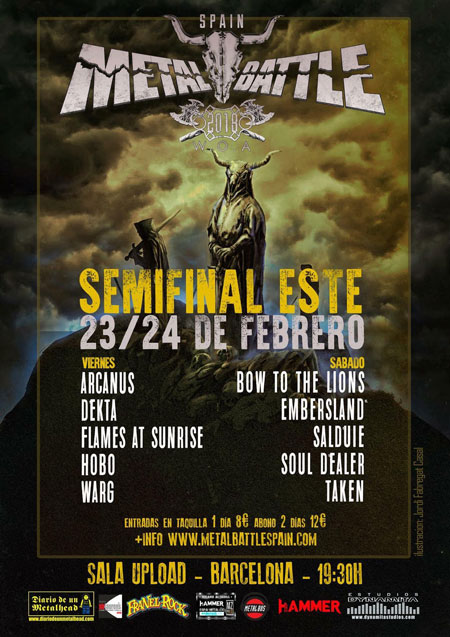 Se acerca la segunda semifinal de la W:O:A Metal Battle Spain 2018, que será la Semifinal Este. Tendrá lugar este fin de semana, días 23 y 24 de febrero (viernes y sábado) en la Sala Upload (Av Francesc Ferrer i Guardia, 13, Poble Espanyol, 08100 Barcelona) de Barcelona.
En la primera de las jornadas, la del viernes, actuarán cuatro bandas barcelonesas: ARCANUS, DEKTA, FLAMES AT SUNRISE, HOBO y los zaragozanos WARG.
Para el sábado se quedan los navarros BOW TO THE LIONS y TAKEN, los maños SALDUIE y dos bandas locales: EMBERSLAND, y SOUL DEALER.
Las entradas de 1 día tendrán un precio de 8€ y el abono para los días costará tan sólo 12€. Se venderán sólo en taquilla y habrá de sobra, ya que la Sala Upload es una sala lo suficientemente grande como para que el aforo no sea un problema precisamente.
Ambos días se abrirán las puertas a las 19:30, comenzando los conciertos a las 20:00h. El orden de actuaciones será, como indican las normas del concurso, a sorteo.
De esta semifinal saldrán ganadoras dos bandas que pasarán a la final, en la que ya esperan las dos bandas clasificadas de la Semifinal Norte, celebrada en Oviedo, y que son THE FLYING SCARECREW (Bizkaia) y STRIKEBACK (Galicia).
W:O:A METAL BATTLE SPAIN – SEMIFINAL NORTE
ARCANUS, DEKTA, FLAMES AT SUNRISE, HOBO y WARG
OW TO THE LIONS, EMBERSLAND, SALDUIE, SOUL DEALER y TAKEN
¡Acude a animarles! Tocar en Wacken es el premio.