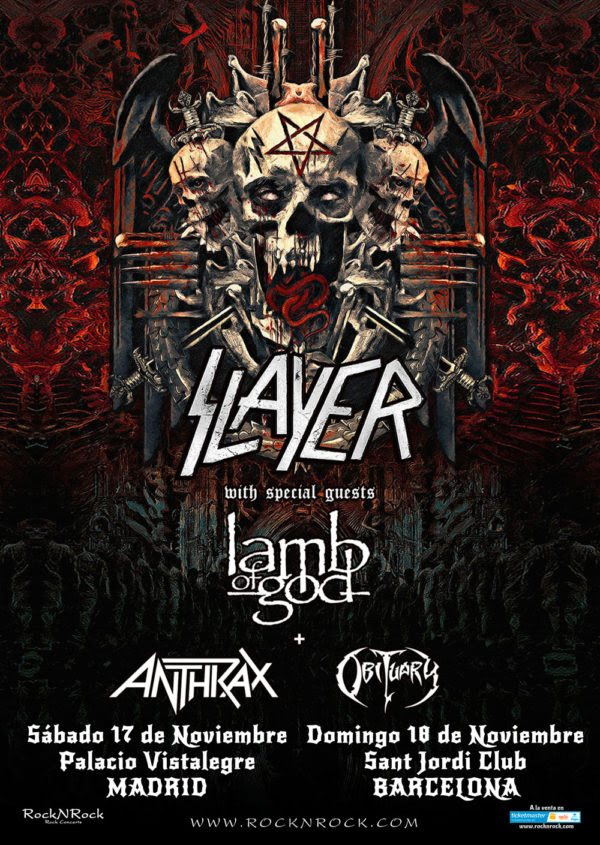 SLAYER SE DESPIDEN EN MADRID Y BARCELONA ACOMPAÑADOS DE LAMB OF GOD, ANTHRAX Y OBITUARY
Tras un reinado de más de tres décadas SLAYER dice adiós con «FINAL WORLD TOUR» y lo hace en MADRID y  BARCELONA acompañados de LAMB OF GOD, ANTHRAX y OBITUARY. 
Para el concierto de Madrid en el Palacio Vistalegre QUEDAN MUY POCAS ENTRADAS DE GRADA DISPONIBLES.
El concierto de Barcelona del próximo domingo 18 de noviembre en el Sant Jordi Club está AGOTADO.
HORARIOS DE ACTUACIÓN
MADRID
SÁBADO 17 DE NOVIEMBRE – PALACIO VISTALEGRE
17:00 h – Apertura de puertas
18:20 h – OBITUARY
19:10 h – ANTHRAX
20:10 h – LAMB OF GOD
21:25 h – SLAYER
ÚLTIMAS ENTRADAS DE GRADA DISPONIBLES EN TICKETMASTER Y ROCKNROCK
BARCELONA
DOMINGO 18 DE NOVIEMBRE – SANT JORDI CLUB
18:00 h – Apertura de puertas
19:10 h – OBITUARY
20:00 h – ANTHRAX
21:00 h – LAMB OF GOD
22:15 h – SLAYER
ENTRADAS AGOTADAS